The need for an Alaska Highway surfaced about the time the automobile became a practical vehicle for transportation. But the large cost of the highway delayed the project until WWII necessitated its construction. In February of 1942, only two months after the United States entered the war, Congress authorized funding for it.
Construction began March 8, 1942, with one group heading northwest from Dawson Creek and one group heading southeast from Alaska. The rough, muddy, remote terrain proved perfect for showing off the capabilities of the new military jeep. As the early photo below demonstrates, jeeps were crucial to the project's success,
In addition, according to Steve Hart, "two Corps of Engineer regiments moved their troops and equipment over the White Pass & Yukon Railroad from Skagway to Whitehorse and worked north and south from there. Another regiment used cat trains to haul their equipment to Ft. St. John before construction began at Dawson Creek and began building from there. So, an initial five regiments plus civilian contractors were all constructing the highway from a number of locations in 1942."
In November of 1942, the Alaskan Highway was declared complete with an official ceremony at Soldier's Summit. But, that didn't mean just anybody could use the highway. There was a war going on, so the road was closed to everyone, but military units or those with permission.
One of those that got permission to travel and photograph the newly built highway was Harry Utsy and Herbert Lanks. In 1943, the pair left Philadelphia in a military jeep with a trailer in tow, bound for Alaska. Together they took nine thousand photos and twelve thousand feet of film. In 1944, Lanks reported on his adventure in the September 1944 issue of Popular Photography.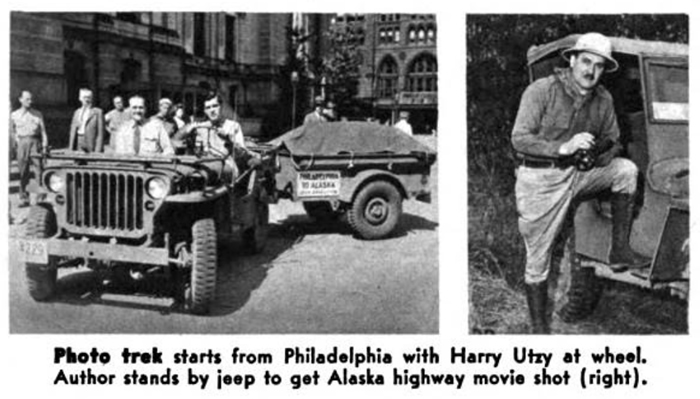 Following WWII, on April 1, 1946, the Alaska Highway was officially transferred to Canada and opened to general traffic. In the 1960s, it was paved. Later, when a Dawson Creek museum opened, it included several nods to the jeep, recognizing the importance it played in the completion of the wild and remote highway. You can learn more about the Alaska highway on Wikipedia.
What better way to celebrate the 75th anniversary of the highway and the 75th anniversary of the jeep, than combining the two into one spectacular road trip!
This 1944 Documentary on the Building of the Alaska Highway contains some great footage: