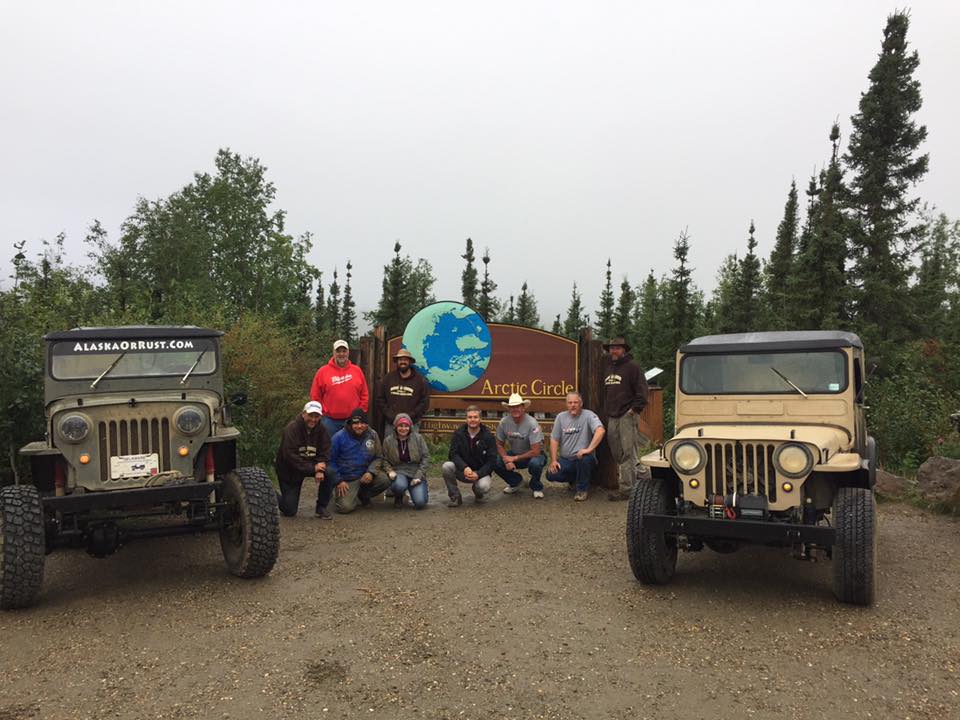 This is the full and final update related to Alaska Or Rust trip. Our collective objective was to drive as a group from Dawson Creek, BC, to Fairbanks, Alaska.
In the late afternoon of Thursday August 3rd, the group finally arrived in Fairbanks, tired. When we went to check in, there was some confusion, but we got everything corrected. Afterwards, we all went out to have some great barbecue at Big Daddy's BBQ in downtown Fairbanks. We'd been on the road since early morning, so pretty much everyone was tired.
While awaiting the delivery of our meals, Joe got the idea that we all should drive to the Arctic Circle starting at 3am or so on the morning of August 4th. He calculated the trip would take six hours and that they'd be back before our 11:00am meet-up at the Fountainhead Antique Auto Museum. Essentially, they'd be driving on only a couple hours sleep on a muddy, gravel road.
After some discussion, others decided they wanted to go, too. This led to more discussion on when they should leave. Eventually, the group decided to leave around 2am. David told them to have a good time, but also that they should be back by 11am, because they'd all agreed to attend a museum event.
"Oh yeah, we'll be back in time," They promised. At one point Cowboy asked David if he'd be mad at them if they didn't show up in time. He told him that of course he'd be mad. He'd floated the idea of the meet-n-greet by them before having Rick make the arrangements and everyone agreed it would be fun. But, he also told Cowboy that he'd get over it. He appreciated their sense of spirit; he just wanted them to abide by what they agreed and that was to attend the meet that they'd worked to arrange.
To make a long story short, 11am rolled around and they weren't back. Those left in Fairbanks rolled over the to the museum. When we arrived we learned there were already folks there who wanted to meet us. Noon rolled around and they weren't back. 1pm came and went and they weren't there. Finally, about 1:20pm, they appeared at the parking lot. Here are some pics of their journey: