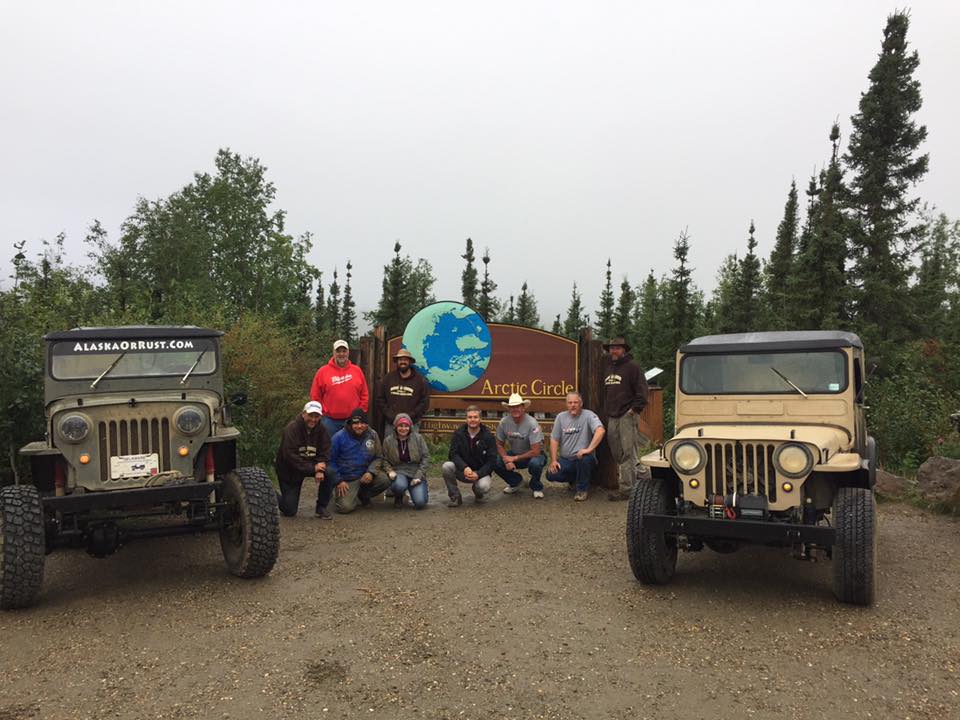 This is the full and final update related to Alaska Or Rust trip. Our collective objective was to drive as a group from Dawson Creek, BC, to Fairbanks, Alaska.
In the late afternoon of Thursday August 3rd, the group finally arrived in Fairbanks, tired. When we went to check in, there was some confusion, but we got everything corrected. Afterwards, we all went out to have some great barbecue at Big Daddy's BBQ in downtown Fairbanks. We'd been on the road since early morning, so pretty much everyone was tired.
While awaiting the delivery of our meals, Joe got the idea that we all should drive to the Arctic Circle starting at 3am or so on the morning of August 4th. He calculated the trip would take six hours and that they'd be back before our 11:00am meet-up at the Fountainhead Antique Auto Museum. Essentially, they'd be driving on only a couple hours sleep on a muddy, gravel road.
After some discussion, others decided they wanted to go, too. This led to more discussion on when they should leave. Eventually, the group decided to leave around 2am. David told them to have a good time, but also that they should be back by 11am, because they'd all agreed to attend a museum event.
"Oh yeah, we'll be back in time," They promised. At one point Cowboy asked David if he'd be mad at them if they didn't show up in time. He told him that of course he'd be mad. He'd floated the idea of the meet-n-greet by them before having Rick make the arrangements and everyone agreed it would be fun. But, he also told Cowboy that he'd get over it. He appreciated their sense of spirit; he just wanted them to abide by what they agreed and that was to attend the meet that they'd worked to arrange.
To make a long story short, 11am rolled around and they weren't back. Those left in Fairbanks rolled over the to the museum. When we arrived we learned there were already folks there who wanted to meet us. Noon rolled around and they weren't back. 1pm came and went and they weren't there. Finally, about 1:20pm, they appeared at the parking lot. Here are some pics of their journey:
The Arctic Circle party arrived at the museum with stories of running out of gas and of using all the spare gas in the cans they'd brought with them. In fact, Rob had tried to go with them, but had to turn back because of a carb issue. Had he gone, they likely would have still been out there due to a lack of gas.
To their credit, they reached their goal, snapped some pics at an Arctic Circle sign, then returned in time to meet some of the folks who'd come to the museum.
Speaking of the Fountainhead, it was a pleasant surprise. What a terrific museum!! It's a privately held museum built after the owner spent time exploring other automobile museums. The result is telling. The cars themselves are absolutely fabulous, with some one-of-a-kind vehicles. There's plenty of Alaska memorabilia and stories. Several videos in small kiosks provide a break for visitors. There's great use of vertical space, with huge photos of old cars dotting all the walls. The background museum (from the teens and twenties?) felt perfect. There's also a windowed restoration room so people can watch a vehicle restoration in progress (something that would be great for a jeep museum).

Even better, the owner himself was explaining what he'd done to the cars, how certain parts worked, the differences with modern cars, and the details that made certain cars unique. This museum is a real treasure and every one of the Alaska Or Rust crew members walked away impressed at the collection and its presentation.
After the museum, everyone took a short break before heading to the Pumphouse for dinner. There, we had a delicious meal. Several presentations were made, including the gift of the signed Alaska Or Rust banner to Hugo for being such an inspiration. David received a signed t-shirt for being chief- cat herder throughout the trip (View this cat herding commercial to understand what managing this crew was like). Everyone reiterated what a special trip it had been. Between Hugo and Fernando's presence and the fine Canadians and Americans who helped us along the way, it was the trip of a lifetime.
With dinner over, we had one last event. Gene's Dodge Chrysler Jeep and Ram dealership offered to let us have one last meat-n-greet. Several other Fairbanks jeeps attended as well. Patterson and Rob's bobcat hood snagged some more signatures, while attendees got some free swag. It was a fantastic end to a fantastic trip.

When the dealership closed for the evening, jeeps were driven away or loaded up. It seemed the perfect analogy for our trip. We had completed our mission.
For many of the Alaska Or Rust crew, Joe's personal story resonated. His father purchased a camper, but passed away before he could use it. Joe swore to himself he'd live life and go where he wanted while he was still young. That's a spirit that defined many of the folks on this adventure: live life to the fullest you can, while you can.
Most didn't know if their jeeps would work once they unhooked them or rolled them off their trailers. They took a leap of faith, not only in their vehicles, but with their fellow travelers. In the end, we parted ways as friends, sadly knowing that most of us might not see others, ever. Yet, talk of another adventure fuels our optimism that we will one day reunite and tackle something special, something that inspires us all.
What's next? First of all, everyone must return home. So, you can follow some of the others' adventures through the Alaska Or Rust Facebook Page.
As for David and Ann, they will go south to Anchorage with Fernando, Hugo, Luis Carlos, and Gisselda. You can follow their trip reports on eWillys.com as they wind their way south. And, it wouldn't be too big of a surprise if they reunited with their new Brazilian friends someday in South America … Their adventures will most certainly continue!