Mary Tilford will be driving his modified 1946 CJ-2A to Alaska with his friend, Don Brown.
Forty-year-old Marty Tilford's wife Suzanna had no idea what was in store for her when she began dating her future husband. Marty had grown up a member of the Vancouver 4 Wheelers, one of the Pacific Northwest's oldest four wheel drive clubs. To him, spending weekends exploring the Cascade Mountains, racing jeeps with fellow enthusiasts, and volunteering to make his surrounding community a better place, such as cleaning up ocean beaches every Fall, was just second nature. But, Suzanna's first reaction to his jeep hobby was disbelief, "There's a whole community built around jeeps?"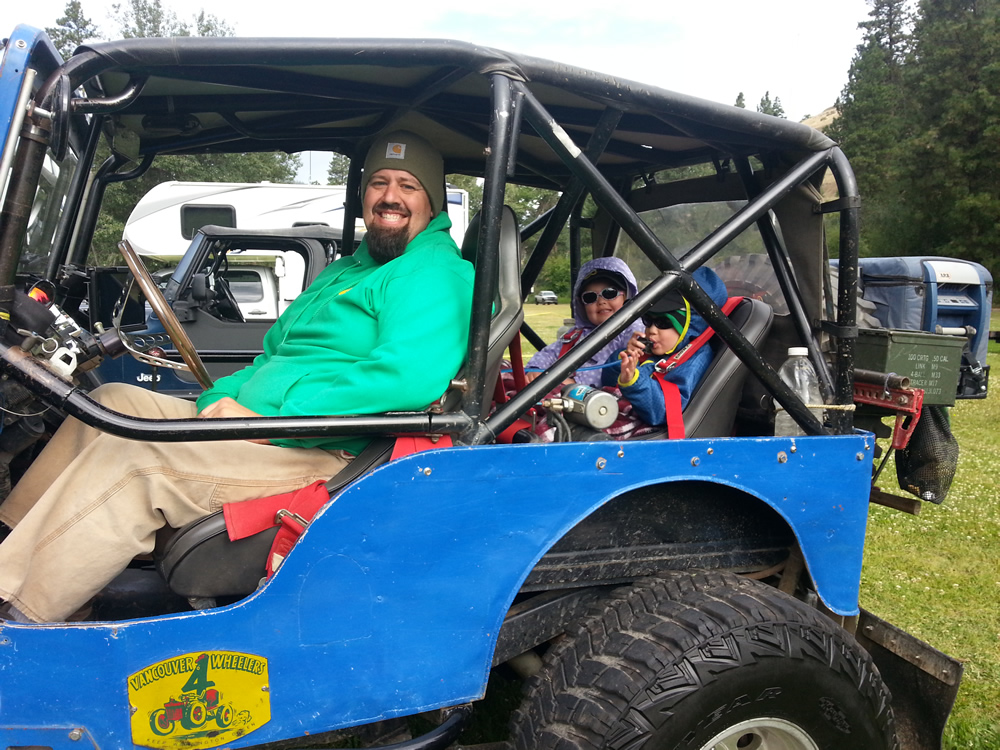 Fast forward twelve years and Suzanna's disbelief has turned to an embrace of the jeeping community Marty loves. They've instilled this same love (or is madness?) in their twin children, a pair of young troopers who can ride for hours at a time without complaint in specially built seats. The whole family participates and enjoys the Pacific Northwest Four Wheel Drive Association, of which the Vancouver 4 Wheelers are members, and the broader Washington Off Highway Vehicle Alliance, which works to protect and enhance safe and responsible off highway vehicle recreation.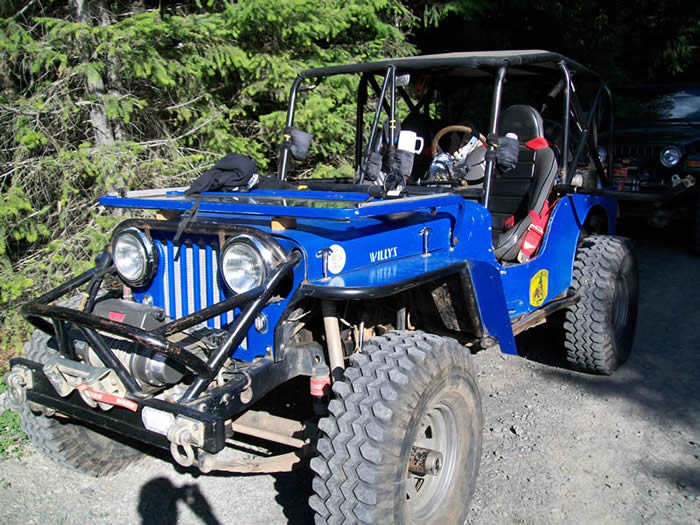 Marty, a fabricator, laser and plasma burn machine operator, sees the Alaska venture as a unique opportunity to partake in a once-in-a-lifetime jeeping event. He'll be driving his specially built 1946 CJ-2A, a highly modified jeep that began as a bare frame and an old race jeep body. Desiring a family friendly vehicle that would take his family to ice cream, survive jeeping on tight rocky trails, and race on weekends, he spent two years constructing it. He stretched the jeep eight inches, while keeping the basic shape of the standard 4×4, added a roll cage (to protect his precious cargo), and updated the drivetrain and brakes to navigate the highways around Portland.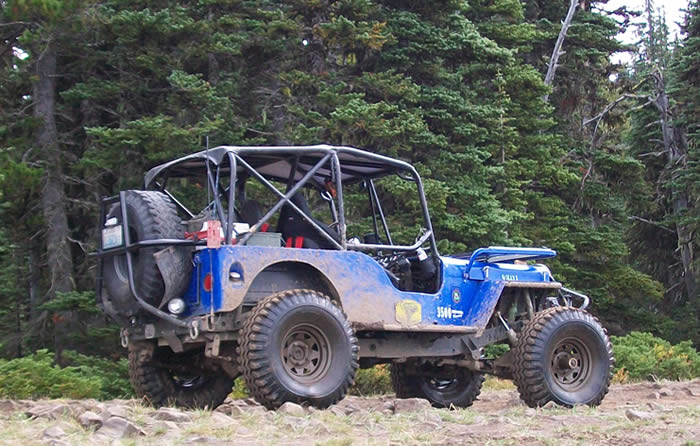 To facilitate weekends in the mountains, Marty added an ARB refrigerator to keep drinks cold, installed a winch to get him out of tough spots, and added an onboard compressor to pump up the tires after jeeping so he could drive it home after a long trip. A 327 Chevorlet engine powers everything, while a TH350 automatic transmission makes driving easier. Custom springs give the jeep a soft, firm ride. He even redrilled the bolt pattern on his transmission to transfer case adapter and rotated it counter clockwise a few degrees to improve his clearance. It's a great performing jeep that will take him anywhere in Washington. Now, it will take him to Alaska for the first time.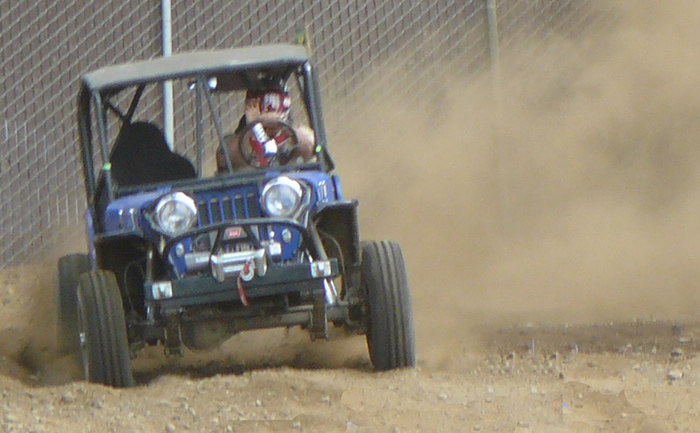 A Brief History of Four Wheel Drive Clubs & Associations:
When Willys-Overland released the world's first civilian jeep, the CJ-2A in July of 1945, the company marketed it as a farm, ranch, utility, and get-a-person-to-a-remote-spot vehicle (for fishing or hunting). It was the purposeful, yet flexible nature of the vehicle that Willys hoped would drive sales. Perhaps it was management's Midwest roots (farming, ranching and outdoors) that led to that sales strategy, but for whatever reasons, the jeep wasn't positioned as a vehicle designed for recreation—as in the act of driving-the-vehicle-itself as a form of fun.
One demographic that embraced the fun and explorative nature of the CJ was west coasters from Washington to California. In 1946 there were still vast remote areas of the West never explored by vehicles and a wide range of climates and topography—ocean beaches, sands, deserts, hills, mountains, and forests ranging from sea level to 14,000 feet—that were perfect for exploring with the new civilian jeep. But, navigating these far-away areas solo could prove fool hardy, so groups of friends, then clubs of jeepers soon formed.
One of the first organized jeep clubs was, according to Four Wheeler Magazine, Sareea Al Jamel (Fast Camel), which formed in 1946. The next known club formed more than a thousand miles north, in tiny Yakima, Washington. In January of 1947 a group of jeep owners met and incorporated the world's first jeep club, the Yakima Ridge Runners.
These and other early clubs led to two forms of recreation that Willys Overland did not seem to anticipate, jeeping and racing. California clubs like Sareea Al Jamel and the Hemet Jeep (formed in 1948 as the Hemet Cavalcade) explored the mountains, deserts, and beaches of southern California in groups. Meanwhile, the Yakima Ridge Runners were exploring their local Cascade Mountain Range, using a long abandoned wagon trail called the Naches.
For some of the Ridge Runner members, exploring the foothills of the Cascades wasn't enough. Their competitive spirit, and likely some arguments over who had the faster jeep, led to head-to-head racing at a Native American site close to Yakima called the Jeep Bowl. It's here the earliest documented jeep racing began in the United States. The Ridgerunner club's activities eventually drew the attention of Life Magazine, which did an article on club members, and Universal News, which published two news reels of their antics.
In 1953, the town of Georgetown, hoping to stimulate tourism, hosted a jeep trek over an old stagecoach route called the Rubicon Trail. This marked the beginning of the famous Jeepers Jamboree. Events like this encouraged more people to purchase jeeps, which led to more interest in jeeping and racing. Slowly, the number of clubs grew, both along the west coast and throughout the country.
For multiple reasons—organization of activities, land use issues, and camaraderie—clubs began grouping together into associations. The California Association of Four Wheel Drive Association formed in 1959 and the Pacific Northwest Four Wheel Drive Association (Washington, Oregon, and Idaho) incorporated in 1960.
The formation of clubs and associations, and as part of both the recreative use of the jeep and the growing car culture, there were a flurry of jeep-related products that flourished. In the East and Midwest this came in the form of utilitarian items like snow plows, hardtops, farm equipment, and utility equipment (towing, generators, fire jeeps). A little later, in the 1950s and 1960s, start-ups began t produce recreative and performance products. These included jeeping enhancements (free wheeling hubs, winches, and carriers), drivetrain improvements for faster speeds (overdrives), and products for racing (fiberglass bodies, roll bars, racing seats, drivetrain modifications). Based on the types of older jeeps that have sold over the last ten years, these type of improvements proved more popular in the west than the east.
It was not uncommon in the Pacific Northwest for jeep owners in the 1960s and 1970s to use their jeeps for race, street, and trail. This led to safety modifications (brakes, roll cages, full harnesses), the installation of heavier duty parts (to survive racing and hard jeeping), practical driving improvements (better brakes lights and the swap to modern steering columns for turn signals), and a need for more power, in the form of V6 and V8s installations.
Today there are still jeep clubs all around the US (and around the world), though they are more often known as 4×4 clubs, due to their willingness to accept non-jeeps among their ranks. Club members volunteer annually to clean beaches, maintain trails, and help their communities. These days, their greatest challenge is less about surviving remote areas and more about keeping access to those areas open. With more people entering forests on foot, bike, motorcycle, atv, jeep, and truck, the danger to wild terrain isn't the danger unto the people; it is the danger of permanently damaging the wilds they love so much. Tread lightly is now their common goal.