NOTE: Attending in spirit. Bob Christy was riding with Scott when Scott's wagon's engine blew.
Bob Christy will be riding with Scott Gilbert, but is known in throughout the jeep community for his CJ-3B.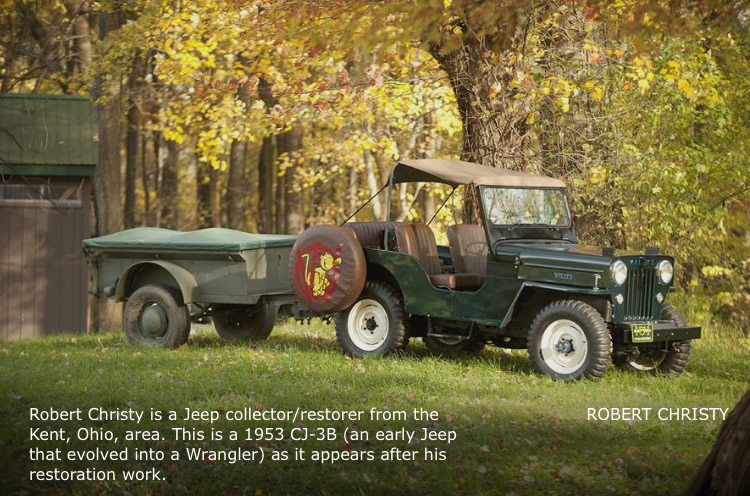 Bob Christy has had a lifelong love of jeeps since his dad took him to a jeep race in Lisbon, Ohio when he was 8. He's been hooked ever since. He'll be riding with Scott Gilbert on the journey to Alaska.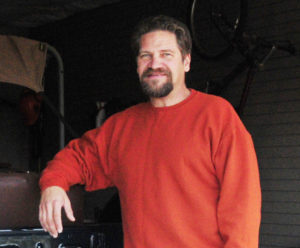 He currently has six jeeps including a fully restored 1953 cj3b (pictured above), and in progress 1949 jeepster and several parts vehicles.
Bob has been a photographer for Kent state university for the past 16 years and helps to run several jeep shows including the spring Willys reunion which brings jeep owners from all over the world together. Bob lives in a log cabin in Green, Ohio with his wife, several cats and all these jeeps.
HISTORY OF THE JEEP NAME:
There are numerous false histories regarding how the jeep got its name. One of the more well-known incorrect stories claims the jeep was named after the initials GP or general purpose. While Ford introduced a Ford GP as a pilot vehicle in late 1940, by that time soldiers testing the Bantam vehicle had already begun calling the jeep by that name. According to this 1944 article, court-case testimony suggested that drivers began calling the vehicles "jeeps" by November of 1940:
But, jeep wasn't the only named used to describe the vehicles. Even by April of 1942, Army editors still couldn't decide what to call it. Some editors called them "Bantam cars", some "Peeps", some "Jeeps", some "Blitz Buggies", among other names.
Eventually, a decision was made. In May of 1942, newspapers announced the armored division officially named the quarter-ton command/reconnaissance car the 'Peep', while the half-ton armored car was called the 'Jeep'. The Milwaukee Journal published two photos to help readers distinguish between the two.
This confusion, in part, explains why there is confusion surrounding the name.
A second reason for confusion had to do with a lawsuit over the trademark by Ford and Willys Overland. Willys Overland wanted to trademark the term Jeep, but Ford objected, arguing it had contributed to the look of the jeep, especially their invention of the nine slot stamped grille, one of the iconic visual aspects of the vehicle.
By mid-1945, WWII was nearly concluded. Willys Overland, ready to introduce the jeep, was forced to stamp "Willys" into the hood and windshield of the ready-to-be-released CJ-2A, the first civilian jeep. This led to some jeeps being called jeeps, a marketing device Willys continued to use, while other folks called them "Willys" due to the stamped hood.
Ford and Willys fought over the Jeep name for years, until Willys Overland was finally awarded the name in 1950.