Bob Christy will be riding with Scott Gilbert, but is known in throughout the jeep community for his CJ-3B.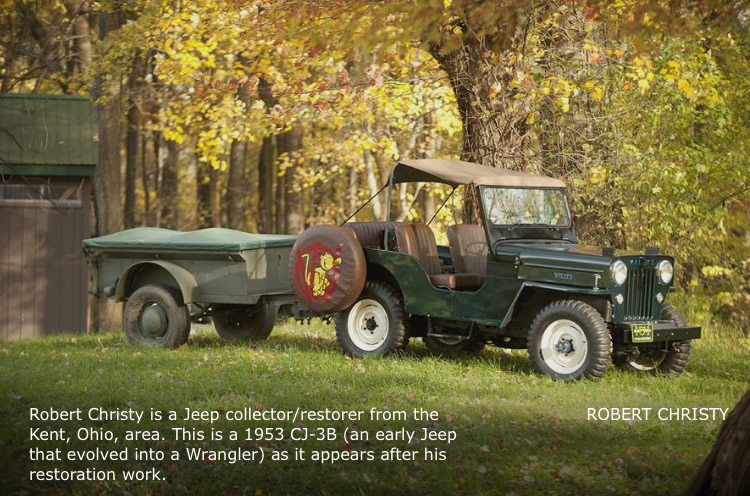 Bob Christy has had a lifelong love of jeeps since his dad took him to a jeep race in Lisbon, Ohio when he was 8. He's been hooked ever since.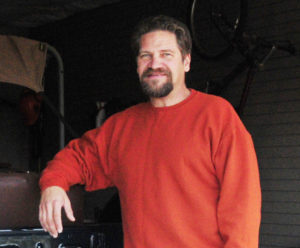 He currently has six jeeps including a fully restored 1953 cj3b (pictured above), and in progress 1949 jeepster and several parts vehicles.
Bob has been a photographer for Kent state university for the past 16 years and helps to run several jeep shows including the spring Willys reunion which brings jeep owners from all over the world together.Bob lives in a log cabin in Green, Ohio with his wife, several cats and all these jeeps.
THE JEEPSTER:
Though Bob's pride and joy is (after his wife and cats) his CJ-3B, lately he's been focusing on a different jeep, the restoration of a Jeepster.
The Jeepster was first introduced in 1948 by Willys Overland. It was their first post-war sports model. Though it was built on a jeep chassis, it was actually a 2WD vehicle. Hoping to entice those interested in a more luxurious jeep, the Jeepster included numerous deluxe features and interior fittings in addition to a high level of standard equipment that cost extra on other automobiles. These included, among many others, whitewall tires, hubcaps with bright trim rings, sun visors, deluxe steering wheel, wind wings, locking glovebox, cigar lighter, as well a continental tire with a fabric cover.
Unfortunately for Willys Overland, the model proved unpopular. Less than 20,000 units were produced and the model was ended in 1950. In the 1960s, Jeep revived the Jeepster under the name Jeepster Commando. But, they didn't prove all that popular either.